Senior Product Manager, eCommerce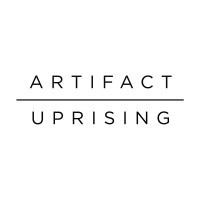 Artifact Uprising
Product
Denver, CO, USA
Posted on Wednesday, August 30, 2023
Artifact Uprising is a dynamic and innovative e-commerce company that specializes in creating premium printed photo products. Our mission is to inspire and empower people to hold their memories in their hands and share their stories with the world. We believe in the power of tangible experiences in a digital age, and our products reflect that philosophy. As we continue to grow and evolve, we're looking for a skilled Senior Product Manager, eCommerce, to join our team and drive the future of our online shopping experience.
As the Senior Product Manager, eCommerce, you will play a pivotal role in shaping the online shopping journey for Artifact Uprising's customers. You will lead the strategy, development, and execution of our e-commerce platform, ensuring that every interaction with our brand online is seamless, delightful, and aligned with our brand values. Reporting directly to the VP of Product, you will collaborate closely with cross-functional teams, including design, engineering, marketing, and customer support, to drive growth, conversion, and customer satisfaction.
Job Responsibilities
E-commerce Strategy: Develop and execute the overall e-commerce strategy in alignment with the company's goals and brand identity. Identify opportunities for growth, innovation, and differentiation within the e-commerce space.
User Experience: Champion exceptional user experiences by leading the design and optimization of the online shopping journey. Continuously gather insights from customer feedback, usability studies, and market trends to refine the user experience.
Product Roadmap: Own the e-commerce product roadmap, prioritize features and enhancements, and communicate the product vision to cross-functional teams. Balance short-term improvements with long-term strategic initiatives.
Conversion Optimization: Collaborate with data analysts to monitor and analyze user behavior, conversion rates, and other key performance indicators. Identify friction points and implement data-driven solutions to improve conversion rates.
Cross-Functional Collaboration: Work closely with design and engineering teams to translate strategic initiatives into actionable plans. Collaborate with marketing to ensure consistent messaging and promotions across the e-commerce platform.
A/B Testing: Develop and execute A/B testing strategies to optimize site performance, user engagement, and conversion rates. Leverage test results to iterate and improve the user experience.
Platform Enhancements: Identify and evaluate third-party tools, integrations, and technologies that can enhance the e-commerce platform's capabilities and customer experience.
Market and Competitive Analysis: Stay informed about industry trends, competitive landscape, and emerging technologies in e-commerce. Use this knowledge to drive innovation and maintain Artifact Uprising's competitive edge.
Qualifications
5+ years of experience in product management, with a focus on e-commerce or digital products.
Proven track record of successfully driving e-commerce growth and optimizing user experiences.
Strong analytical skills, with experience using data to drive decisions and measure outcomes.
Excellent communication and collaboration skills to work effectively with cross-functional teams.
Experience with A/B testing methodologies and tools.
Deep understanding of user-centered design principles and best practices.
Knowledge of e-commerce platforms, technologies, and trends.
Passion for photography, design, and storytelling a plus.
Artifact Uprising® is a Colorado-based company that creates premium quality, customizable photo goods for your digital photos. Driven by the mission to empower people to tell their stories effortlessly, beautifully and often, the company is known for elevated design and thoughtfully sourced materials. Signature products include the Layflat Album touting ultra-thick pages and foil-stamped covers, textured matte Everyday Prints, and a line of customizable frames.
Artifact Uprising was recently named on the Built In Colorado's 2022 Best Places to Work list. We are a tight-knit team who works with some of the latest technology to delight and inspire our customers.
Job Perks
Industry leading health, vision and dental insurance for families (Plans cover 100% for employees and up to 95% for dependents), flexible vacation policy, Gym partnership with ClassPass, 401(k) matching plan, Year-End Company Bonus Plan.
Why Artifact Uprising?
Creative Freedom We value the creative process and look to our employees to speak into Artifact Uprising products, identity and approach – regardless of position or title. We look for driven people who demonstrate initiative to take the company to the next level.
The Working Life
We strive to create a workplace where everyone works hard but also has the flexibility and balance to enjoy life outside of the office.
It Won't Be Boring
We are a small company with big ideas - and we recognize it will take every last one of us to reinvent the way brands approach business. We believe a good workplace empowers its team to rise to new challenges, expand their skill sets and think outside of the box. Through this, we foster a company culture that is always growing, always reaching, and always looking to see things differently.
Interested in this position?
Tell us why you want to work at Artifact Uprising and what we should know about you.
Artifact Uprising is an Equal Employment Opportunity (EEO) employer. We do not discriminate based upon race, color, sexual orientation, gender identity, religion, national origin, age, disability, or veteran status.